Sod Suppliers in Becker, MN
Becker Sod Farms, LLC has been growing, selling, delivering and installing premium Kentucky bluegrass sod since 1980. Our products are ideal for all types of projects and properties, and our team of grass suppliers has decades of experience and knowledge to share with our customers. Come to us for sod delivery, self-service pickup, installation and maintenance help, and much more.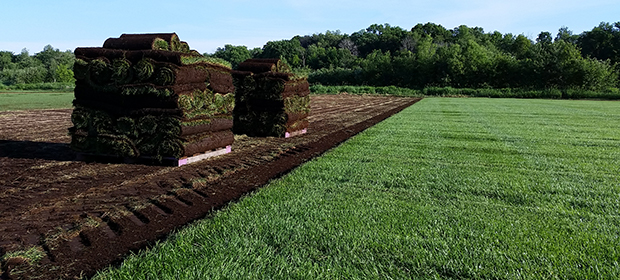 Your Local Turf Suppliers
Have you recently built a custom home? Torn out a patio? Completed a major landscaping project? If any of these situations sound familiar, you may be in need of a supply of sod to recharge the parts of your lawn that are in disarray. Fortunately, Becker Sod Farms, LLC is here to help. As turf suppliers in Minnesota since 1980, our family-owned and operated business offers high-quality sod for purchase, as well as a variety of service options to make your purchase as easy and beneficial as possible. Our sod contractors are always here to serve our customers!
Becker Sod Farms, LLC provides a complete range of products and services for customers in Becker and a 50-mile surrounding area. As premier sod suppliers in Becker, Clear Lake, St Cloud, and Big Lake, MN, we are committed to providing our customers with a premium product: our homegrown Kentucky bluegrass sod. This attractive sod is ideal for projects at homes, commercial sites, municipal properties, major landscaping projects and more, and we're pleased to offer pickup at our site seven days a week. Our grass suppliers can also deliver our sod to your property and install it for you! Becker Sod Farms, LLC has built a steady clientele over the years because:
We're a supplier of premium Kentucky bluegrass sod.
We've been family-owned and -operated grass suppliers in Becker, MN since 1980.
Our sod suppliers have over 45 years of combined experience.
We offer sales, pickup, delivery and installation services.
Our sod contractors' products and services are competitively priced.
Contact us For Orders, Please Call Tom at 320-241-5626.